Finding out you need a root canal can be stressful and prompt a lot of questions about how to proceed. What are my treatment options? How much time will treatment and recovery require? How much will a root canal cost? If you're asking yourself these questions, keep reading to learn about your options for treatment and the factors that can determine your overall costs.
Why Should I Save My Natural Tooth?
When diagnosed with a root canal system infection, you ultimately have two courses of action to take: either extract the affected tooth or save it. Sometimes a tooth can be too damaged to save, but endodontists, who are specialists in performing root canals, will always recommend keeping your natural tooth when possible. Patients often inquire about extraction in the interest of saving time and money, but extraction can end up costing a lot more time and money than a root canal.*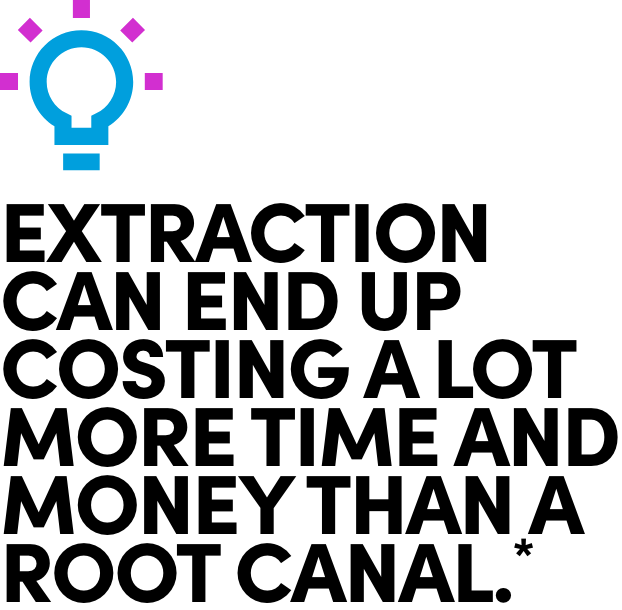 Patients who choose to extract a tooth without replacing it can experience numerous complications, including the following provided by the Mayo Clinic:
Difficulty in chewing
Bone loss
Shifting of remaining teeth
Bite irregularities
Change in facial aesthetics
Speech issues**
Replacing an extracted tooth with an artificial implant can offer similar form and function as a natural tooth, but it can be quite costly.***Dental implant surgery is also performed in stages, with healing time required between each procedure**, making the implant process more time-consuming and potentially more painful for the patient.
"With a quality root canal treatment and permanent restoration, patients can reasonably expect favorable long-term outcomes at a fraction of the time and cost of a dental implant." – Dr. Eshwar Arasu, GentleWave® Doctor
What Are My Root Canal Treatment Options?
Choosing to save your tooth with a root canal treatment can be virtually painless and leave you with less discomfort in recovery than an extraction†. Until recently, conventional root canal therapy was the primary option for resolving a root canal system infection. But now you have a choice in root canal treatments as well, which can improve your treatment experience and overall outcome.3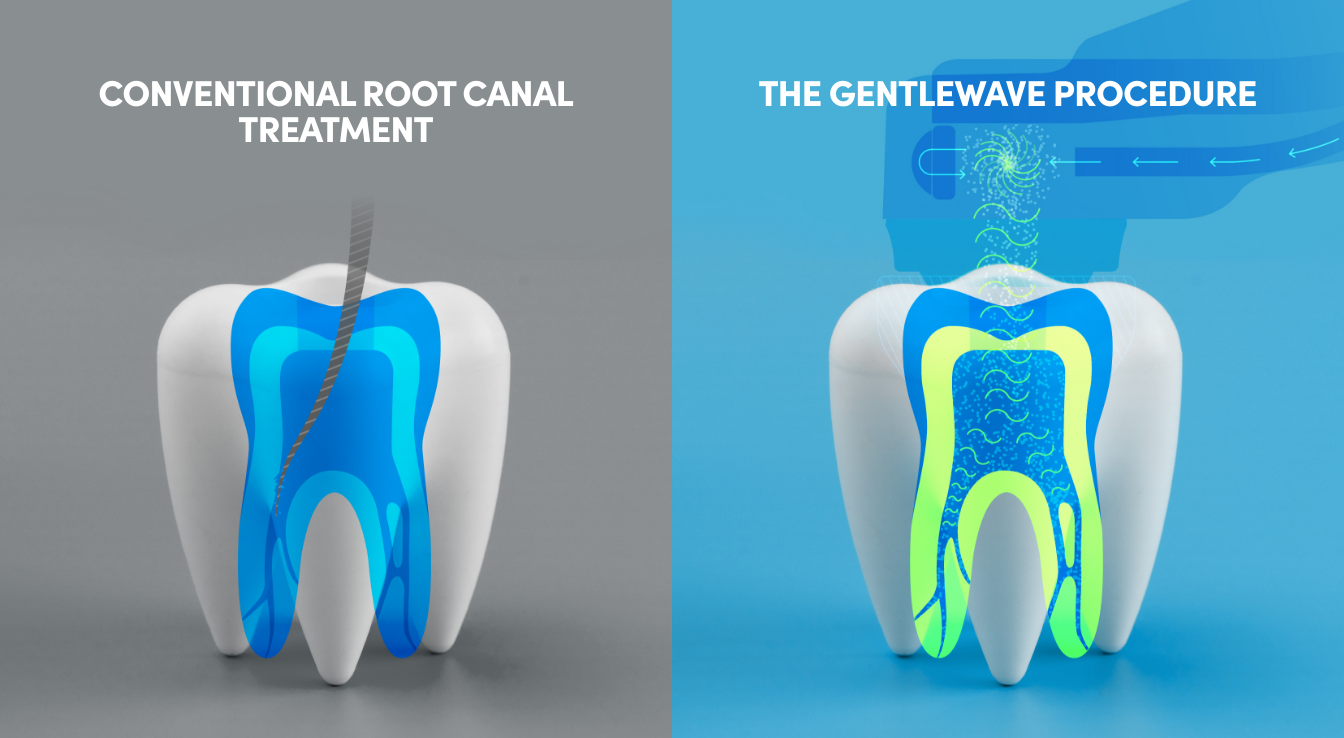 The GentleWave® Procedure is a less invasive1 alternative to conventional root canal treatment. The advanced technology of the GentleWave Procedure enables superior cleaning and disinfection of the deepest, most complex portions of the root canal system1,2. The minimally invasive1 protocol also helps preserve natural tooth structure3 which supports the long-term sustainability of the tooth, promotes faster healing3 and reduces postoperative pain3 for the patient. And while conventional root canal treatment can require multiple appointments††, the GentleWave Procedure typically can be completed in just one appointment3.
"With the GentleWave® Procedure, patients get to experience decreased postoperative pain and that coupled with the decreased number of visits has created a big change in our patient care." – Dr. Sonia Chopra, GentleWave Doctor
How Much Does the GentleWave® Procedure Cost?

If you want to find out what the cost of the GentleWave Procedure might be for you, with or without insurance, find a GentleWave Doctor near you to consult with them about your coverage. Unfortunately, because the GentleWave Procedure is not a conventional root canal treatment, it may not be covered by your insurance. In this case, you will want to discuss your out-of-pocket costs and payment options with your endodontist to determine what's best—for your wallet and your well-being.
*AAE
***AAE
†AAE
††WebMD
The GentleWave® Procedure is a medical procedure that is designed to prepare, clean and preserve the structure of teeth1,2,4 indicated for root canal therapy. Similar to other root canal treatment procedures, there is a potential risk of adverse effects. If you are considering the GentleWave Procedure, ask your clinician if you are a proper candidate. For additional information, visit https://gentlewave.com/safety-information.